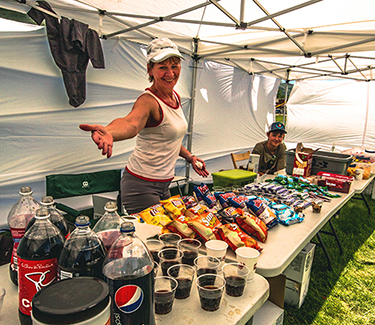 Here is what you can expect at our aid stations. This can change based on availability and other restrictions.
Sometimes demand is higher for some items more than others, but we try our best to keep it stocked. Yes we sometimes run out of a few things based on demand.
We cannot provide specific food and drink to suit every taste (eg: we only have one brand of electrolyte and gel), so if there is something you really must have, be sure to bring it yourself, just to be sure.
Transition 200
Bagels
Bananas
2-bite Brownies
Candy
Chips
Chocolate Bars
Cola
Cookies
Ginger Ale
Sun River Honey gels(refills, not single packs)
Hygiene:

Hand Sanitizer
Handi-wipes
Feminine Pads
Tampons

Mustard
Nutella
Oranges
Peanut butter
Pickles
Rice Crispy Squares
Salt
Tailwind
Water
Watermelon
CP219
Candy
Chips
Chocolate Bars
Cookies
Hand Sanitizer
Rice Crispy Squares
Water
Transition 300 / Finish
Bagels
Bananas
Broth (after 6pm)
2-bite Brownies
Candy
Chips
Chocolate Bars
Cola
Cookies
Ginger Ale
Sun River Honey gels(refills, not single packs)
Hygiene:

Hand Sanitizer
Handi-wipes
Feminine Pads
Tampons

Mustard
Nutella
Oranges
Peanut butter
Pickles
Rice Crispy Squares
Salt
Pierogies
Tailwind
Water
Watermelon
CP316
Candy
Chips
Chocolate Bars
Cookies
Hand Sanitizer
Rice Crispy Squares
Water
Transition 400
Bagels
Bananas
2-bite Brownies
Broth (on demand)
Candy
Chips
Chocolate Bars
Cola
Cookies
Ginger Ale
Sun River Honey gels(refills, not single packs)
Hygiene:

Hand Sanitizer
Handi-wipes
Feminine Pads
Tampons

Meatballs + Sauce (on demand)
Mustard
Nutella
Oranges
Peanut butter
Pickles
Rice Crispy Squares
Salt
Pierogies
Tailwind
Water
Watermelon
CP410
Candy
Chips
Chocolate Bars
Cookies
Hand Sanitizer
Rice Crispy Squares
Water
CP423
Broth (after 6pm)
Candy
Chips
Chocolate Bars
Cola
Cookies
Ginger Ale
Hand Sanitizer
Rice Crispy Squares
Water
Transition 500
Bagels
Bananas
Broth (after 6pm)
2-bite Brownies
Candy
Chips
Chocolate Bars
Cola
Cookies
Ginger Ale
Sun River Honey gels(refills, not single packs)
Hygiene:

Hand Sanitizer
Handi-wipes
Feminine Pads
Tampons

Meatballs + Sauce (after 6pm)
Mustard
Nutella
Oranges
Peanut butter
Pickles
Rice Crispy Squares
Salt
Pierogies
Tailwind
Water
Watermelon
CP510
Candy
Chips
Chocolate Bars
Cookies
Hand Sanitizer
Rice Crispy Squares
Tailwind (electrolyte)
Water