How it Works
Each day from December 1 to 24 you have to do a minimum of a 2km run. If you're just in it for fun, we don't really need to have recorded mileage - honour system. We will also have prizes for the top runners in the run streak, and you'll need to record your mileage and submit each day.
Overall prize for the female and male competitor with the most mileage at the end of the 24 days
Additional draws for anyone who submits mileage during the 24 days.
The daily prize will be announced early each morning, as well as a daily challenge to make your run a bit more fun.
Record your run on some kind of digital device and share your progress with us via the online results form to qualify for the daily prize. Also share stats and images on our Advent Run Facebook group or by commenting on our daily Instagram post, hashtagging #AdventRunStreak. It can be shared via Strava, Garmin, Suunto, Runkeeper, or any other app that records distance and can spit out a link.
So everyone gets a shot at winning each day, not just the leaders! Prize are provided by our generous sponsors.
Make sure to check out the Terms and Conditions and Virtual Waiver before registering.
What You Get
You get a beautifully ugly, custom-designed, long-sleeve Christmas tech top. The first 250 registered in either Runukkah or Advent Run also get a custom toque! If you register for both, you'll get two shirts, the hat, and a custom thermal flask! You also get a race medal (which doubles as an ornament for your tree) designed and produced by our race crew. Most importantly, you get to participate in a really fun virtual event, pushing yourself to run, despite the cooler weather, while getting to socialize (distantly) with runners from all over the place.
Note: if you register after November 15, it's going to be hard to get you your swag before the end of December, so register early! Shipping times are longer than normal due to the holidays and Covid-19 so please be patient!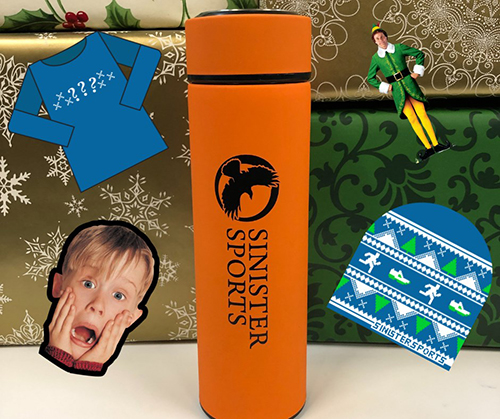 Double Dip
One of the beautiful things about virtual runs and races is that you can do more than one at a time. So yes! You can double dip your events.
We will have additional swag for people who register for both the Advent Run Streak and Runukkah events.
Swag and Prize Shipping
Let's be realistic - shipping is slow these days due to Covid, and it's also the holidays, which means this could take a while. Our vendors are also swamped with all of the holiday orders, but they're working as hard as they can!
For anyone who registers by November 9, we will order your shirts and send them out by early December via Canada Post. If you register after November 9, our shirt suppliers are saying that it could take a bit longer, but we'll do our best to get the swag to you promptly.
For participants outside of Canada, out-of-country shipping is taking a lot longer, unfortunately. If you want your swag faster, we can arrange special shipping with you after you register! Please try to be patient though. Everything is moving slower because of the pandemic.
We ship from our home base in Crowsnest Pass, Alberta, but we're sometimes on the move and we can try to hand deliver if we're in your neighbourhood.