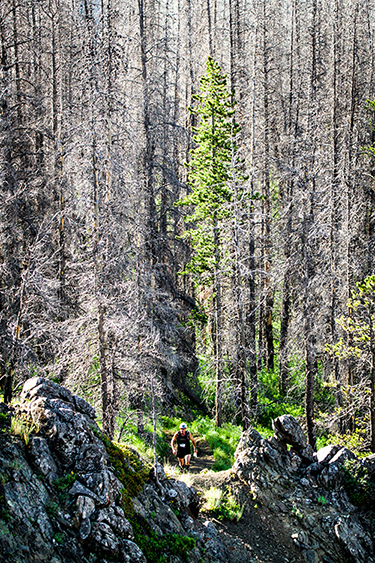 Since this is a new race, nobody really knows what they are getting into. The course is designed to take advantage of terrain that is suitable for early-season running. May can throw a bit of everything at you. It can be beautiful or we could have a snow storm.
Since it's an early-season race, similarly to Sinister 7 Ultra, there will be dead-fall to climb over. There will be creeks to cross. The trails will be wet and probably snowy in some cases. You can certainly expect snow on the east and north-facing slopes, and while it's generally pretty packed by May, you could be post-holing in some areas. If you cannot finish the race in 12 hours, you will be running in the dark.
If you don't keep your head up, you will also get lost. You will be in the wilderness and you need to be self-sufficient.
Our race crew will assist, applaud, and push you along the way. Our volunteers will be a lifeline when you need some encouragement, a helping hand, and a friendly face. Our medics will patch you up and push you out the door again.
Does this mean that you shouldn't come to the race if you are not in peak physical condition? No, not at all. Push yourself and have some fun out there as we celebrate the wilderness.
As with the statements we make about all of our races, this is not meant to discourage anyone - actually it's completely the opposite. We want everyone to be realistic about what they are up against. We put together a great venue and it's up to each person to get the most out of it, despite (or because of) the tough conditions. This race will bring out the best and worst in people, and we want everyone to reach for their best no matter what happens. The reward is something that cannot be described. It comes in this electricity you will feel when you are at the race, and when you accomplish what you are after. That comes from you. You and the trail - that's it. Now... are you ready?